Salada Original Blend Black Tea   has been as traditional a drink in our family as the Thanksgiving turkey, the Christmas tree, and the New Years favors and canon blasts.  My mother often drank this black tea, while us kids were sprouting teenagers.
So I'm sure that I fell in love with Salada tea by observing how much she savored it. To this day, black tea is frequently served at our homes to our own families.  As long as Salada continues to produce this tea as they do today, we'll continue drinking it.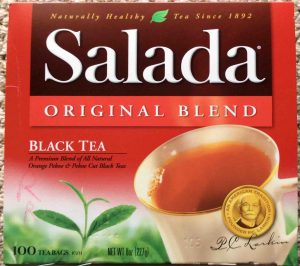 In this article, we're reviewing a 100 tea bag box of this revving tea.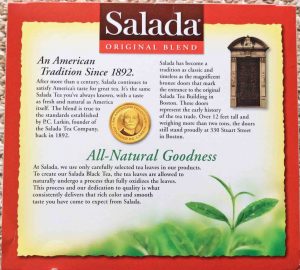 Benefits, Pros, Features, and Advantages
Promotes good health.  Black tea is a zero-fat, zero-calorie beverage.  So as long as you add nothing to it except a bit of zero-calorie sweetener, this Salada product will not raise your cholesterol or add pounds to your middle.  In fact, it speeds the body's metabolism, promoting faster burning of more calories.  So, with all other dietary variables held constant, drinking tea with caffeine can help reduce weight for healthier bodily operation.
No added or artificial ingredients.  This full strength version of Salada black tea is all natural, gluten free and sugar free, yet packs and also-natural caffeine punch.
Experienced tea producers.  Salada is a well-established name in the tea producing business, as they've been growing and packaging tea since 1892.  Their expertise shines through in this jolting version of their popular black tea.
Extended shelf life.  Remains fresh for many years, as long as you leave the box wrapped in the airtight cellophane vapor barrier they wrap it with.
Retains original flavor when sweetened.  This premium blended tea sweetens nicely with stevia.  Stevia sweetens the this product without destroying its signature black tea flavor. It's good with milk, half & half, or heavy cream added.  Unlike the green teas I've sampled, you can put lots of honey into this black tea without destroying its not-so-delicate and bullish flavor, even though the taste is admittedly weakened somewhat by removing most of the caffeine.
Wakes you up, and promotes sustained alertness.   Harvested from quality controlled tea estates, this high quality whole tea has significant caffeine. So it generally will keep you awake and alert for short stretches of work days, even at night.
Inexpensive.  Salada tea products generally tend to be low-cost yet excellent tasting beverages. This original black tea blend is no exception.  Discount coupons are also widely available, for an even better price.
Well-fastened bag strings and tags.  They use real metal staples to fasten the string and tags to each tea bag.  So these assemblies virtually never come apart, unlike some other brands that use a metal-free mechanism to attach the tag to the teabag.
Functions well as a lighter breakfast tea.  This is an orange pekoe and pekoe cut black tea blend product; an effective morning stimulant, especially when served with breakfast, though it's not quite as strong as the teas labeled as breakfast teas.

Disadvantages, Cons, Problems, and Concerns
But shorter than possible shelf life.  These Salada tea bags are not individually wrapped air tight.  Nor is the box in fact, once the cellophane is removed.  The bags are arranged in three rows in this 48 tea bag box I'm evaluating right now.  So as soon as you open the box, and assuming that the tea inside is fresh, you get a strong smell of orang and black tea.  The freshness begins escaping thus.  They paid low attention to ensuring long-lasting freshness in the packaging here.
Might stain clothing and teeth.  Being darker in color than many green teas, especially when you steep it for a long time, this black tea beverage can stain your clothes, should you accidentally spill it on yourself.  If this happens, flush it out with clear water immediately, so long as the affected clothing can be safely washed with water.
Addictive for some.  Since Salada Original Blend Black Tea has full caffeine, it can be addictive. And, when you stop drinking it for more than a couple of days, a caffeine-withdrawal headache often occurs.  So if you're going to drink this tea, keep drinking it each day.  But avoid drinking more than a few cups, to avoid the effects of caffeine overdosing.
Not organic.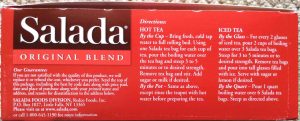 Brewing Instructions
Each tea bag makes one cup of robust tasting, invigorating  black tea.
By The Cup
Boil enough fresh water for the number of cups of this black tea you wish to brew.
While waiting for the water start rumbling, put 1 Salada teabag into each cup you're brewing.
When the water boils, immediately pour it into each cup.
Steep for three to five minutes or until it becomes strong enough for your liking.
Remove and discard the tea bag(s).
Sweeten tea as desired.  You might also try added half and half, milk, orange, lemon, or lime as tea condiments.
By The Pot
Use hot water to rinse out tea-pot prior to brewing, to warm it.
Again, determine how many cups of this premium black tea you desire.
Put the required amount of fresh, filtered water in your kettle or pot.
Put the pot on your stove and turn the heat to high.
Remove tags from teabags, to avoid possible leaching of ink from the tags into the tea.
When the water reaches a rolling boil, immediately add the tea bags to it.
Remove kettle from heat and turn off the stove.
Allow bags to steep in the pot for three or four minutes.  Steep to taste here.
Then, remove the teabags from the pot with a straining spoon and discard.
Pour the tea into cups, sweeten to taste, and add milk, lemon, lime, or orange as desired.
For Iced Black Tea
Take three Salada tea bags for a two-glass yield.
Remove the labels from them.
Put these teabags into a tea-pot.
Then, in a separate heat-safe container, boil two cups of fresh, filtered water.
Once the water boils, remove from heat and turn off the heat source.
Pour this water into the teapot, on top of the tea bags.
Steep for three or four minutes.
Remove the tea bags with a straining spoon and discard.
Add sugar, lemon, orange, and/or lime as desired.
Fill two glasses with ice.
Pour steeped and seasoned tea into them.
Ingredients
Black tea.  JUST black tea.   That's all.

Nutrition Facts
Serving size: 1 tea bag (2.27 grams).  Makes 8 Fl. ounces.
Calories: 0, 0% DV.
Total fat: 0 grams, 0% DV.
Sodium: 0 milligrams, 0% DV.
Total carbohydrate: 0 grams, 0% DV.
Sugars: 0 grams.
Protein: 0 grams.
Our Rating
This tea is simple to prepare, costs little, and is easy to flavor.  Plus, with coupons for it so widely available online and in paper publications and coupon books, this black tea from Salada costs, actually, next to nothing.  We'd rate it at 96 out of 100.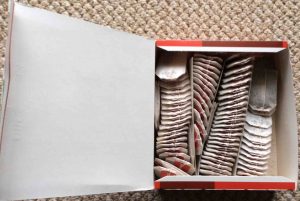 Where To Buy Salada Original Blend Black Tea
Look for this full-strength black tea from Salada, with all caffeine intact, in the red, brown, and white box with the white Salada logo at your larger and smaller grocery stores.  Practically any food retailer that carries any tea at all, will certainly display this Salada black tea on their shelves or web pages.  I've seen it at Walmart, Home Town, Kroger, and Giant Eagle stores among others.
References
Revision History
2015-03-02: Tweaked content.
2015-01-24: Updated and revised the content, and added pictures.
2015-01-12: Tweaked content and added whitespace.