We've consumed a few boxes of   Great Value Decaf Black Tea   in recent months.  Mom drank orange pekoe black tea nearly every day, as us siblings grew up.




So we fell in love with tea by observing how much she enjoyed it. To this day, black tea is frequently served at my sisters homes.  So they must have been influenced by Mom to like it too.  The tea-drinking family tradition continues.  Thanks to Walmart for making a decaffeinated version of their original black tea.  Tastes about the same, and is very cheap to buy.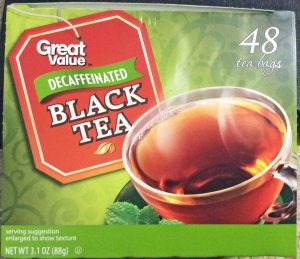 As teas go, this decaffeinated version of Great Value orange pekoe and black tea is decent; it tastes no worse than other decaffeinated black teas we've tested. Only modest differences in flavor between the two products are apparent.  The decaffeinated version tastes a little weaker than its non processed counterpart.  Yet it retains the clear, deep orange-red color with virtually no bitterness, that we identify with Mom's black teas from ages past.
It's a wonderful evening tea, if you like to drink tea to relax, but do not want to lie awake for hours after bedtime, waiting for the caffeine effects from whole black teas to diminish enough to allow for sleep.  It sweetens well with stevia or agave nectar, and, as expected for a store brand tea, is cheap and easy to secure, so long as you can get to a Wal Mart.  Plus, it stock piles well, for years in a cool, dry food storage bin.
We're reviewing here,  a 48-count, 3.1-ounce box of this soft tea.  Note that orange pekoe tea is a particular preparation of black tea.  So orange pekoe tea is indeed black tea.




Benefits, Pros, Features, and Advantages
Less experience does not mean less good tea.  Great value, though a relative newcomer to the tea production industry, seems to have gotten it right in this tea.  Though a younger brand, their expertise shines through nonetheless, in this decaffeinated version of their popular black tea.
Medium shelf life.  This tea keeps for years without noticeable flavor changes, as the box comes wrapped in virtually air-tight cellophane.
Burns calories without as much speed-up.  This tea works reasonably well at appetite suppression, although not as well as green tea in my body.  Plus, since the caffeine content is much lower than in the original version of this product, its weight loss effects may be less pronounced.
Easy to sweeten without ruining the flavor.  This premium blended tea sweetens nicely with stevia.  Stevia sweetens the this product without destroying its signature black tea flavor.
Accepts honey too.  Unlike the green teas we've sampled, you can put lots of honey into this black tea without destroying its not-so-delicate and bullish flavor, even though the taste is admittedly weakened somewhat by removing most of the caffeine.




Cream works also.  Adding a bit of half and half or whole milk highly compliments the flavor here.
Long best-if-used-by period.  The best-if-used-by date is roughly two years out from the date we purchased my box.  But experiences proves that it will keep for longer without losing much great flavor.
Gluten free.
Very low caffeine.  This high quality decaffeinated black tea has little caffeine. So it generally will not keep you up at night, even if you decide to enjoy a late-evening cup. We notice no wired feeling when drinking this.
Affordable.  This is a low-cost yet excellent tasting beverage.
Real staples, not glue.  They use real metal staples to fasten the string and tags to each tea bag.  So these assemblies virtually never come apart, unlike some other brands that use a metal-free bag-string-tag construction.
No caffeine symptoms noted.  With little caffeine, we can break with a daily pattern of drinking this tea without suffering headaches, dizziness, or other caffeine withdrawal symptoms.




Cons, Disadvantages, Problems, and Concerns
Potentially shorter shelf life.  The tea bags are not wrapped air tight.  Nor is the box in fact, once the cellophane is removed.  The bags are arranged in two rows in this 48 tea bag box.  So as soon as you open the box, and assuming that the tea inside is fresh, you get a strong smell of orang and black tea.  The freshness begins escaping thus.
Might stain.  Being darker in color than many green teas, especially when you steep it for a long time, this decaf black tea beverage can stain your clothes, should you accidentally spill it on yourself.  If this happens, flush it out with clear water immediately, so long as the affected clothing can be safely washed with water.
Weaker black tea flavor.  This decaffeinated version does not brew to quite as strong a taste or smell as the original version of this product.  But it is nonetheless, still quite delicious.
Not organic.
Brewing Instructions
Each tea bag makes one cup of decaffeinated black tea.
By The Cup
Boil enough fresh water for the number of cups of this tea you wish to brew.
While waiting for the water start rumbling, put 1 decaffeinated tea bag into each cup you're brewing.
When the water boils, immediately pour it into each cup.
Steep for three to five minutes or until it becomes strong enough for your liking.
Remove and discard the tea bag(s).
Sweeten tea as desired.  You might also try added half and half, milk, orange, lemon, or lime as tea condiments.
Enjoy.
By The Pot
Use hot water to rinse out tea-pot prior to brewing, to warm it.
Again, determine how many cups of this premium tea you desire.
Put the required amount of fresh, filtered water in your kettle or pot.
Put the pot on your stove and energize the heat.
While waiting for the water to boil, remove labels from the tea bags, to avoid possible contamination of the tea with ink from these tags.
When the water reaches a rolling boil, immediately add the tea bags to it.
Remove kettle from heat and turn off the stove.
Allow bags to steep in the pot for three minutes.  Steep to taste here.
Then, remove the bags from the pot with a straining spoon and discard.
Pour the tea into cups, sweeten to taste, and add milk, lemon, lime, or orange as desired.
Enjoy.
For Iced Tea By The Quart
Take three to five naturally decaffeinated Great Value tea bags for a 1-quart yield.
Remove the labels from them.
Put these teabags into a tea-pot.
Then, in a separate heat-safe container, boil a quart of fresh, filtered water.
Once the water boils, remove from heat and turn off the heat source.
Pour this water into the teapot, on top of the tea bags.
Steep for three to five minutes.
Remove the tea bags with a straining spoon and discard.
Add sugar, lemon, orange, and/or lime as desired.
Fill glasses with ice.
Pour steeped and seasoned tea into them.
Enjoy.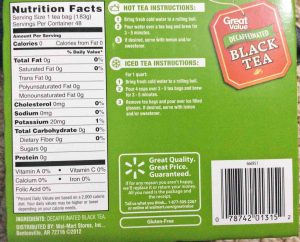 Ingredients
Decaffeinated black tea.
Nutrition Facts
Serving size: 1 tea bag (1.83 grams).  Makes 8 Fl. ounces.
Calories: 0, 0% DV.
Saturated fat: 0 grams, 0%DV.
Trans fat: 0 grams.
Polyunsaturated fat: 0 grams.
Monounsaturated fat: 0 grams.
Cholesterol: 0 milligrams, 0% DV.
Total fat: 0 grams, 0% DV.
Sodium: 0 milligrams, 0% DV.
Potassium: 20 milligrams, 1% DV.
Total carbohydrate: 0 grams, 0% DV.
Dietary fiber: 0 grams, 0% DV.
Sugars: 0 grams.
Protein: 0 grams.
Vitamin A: 0% DV.
Vitamin C: 0% DV.
Calcium: 0% DV.
Iron: 0% DV.
Folic acid: 0% DV.
Our Tea Rating
This tea is simple to prepare, and easy to flavor.  Plus, the process of removing the caffeine does not overtly impact the original tea flavor; though it does have a reducing effect on it.  Nonetheless, this version of the product is quite good tasting.  So we'd rate it at 91 out of 100.
Where To Buy Great Value Decaf Black Tea
Look for this decaffeinated black tea in the green, white, and red Cellophane-wrapped box with the red and white Great Value logo at most any Walmart grocery store or supercenter .
References
Revision History
2015-01-25: Originally published.