Interesting that this Celestial Seasonings Peppermint Tea and Its tagless teabags have each, a reduced amount of peppermint leaves. Yet, it brews up into an intensely minty, delicious beverage with a taste very much like liquid peppermint patties, but definitely not as sweet. It's among the best mint teas; because it is an exclusively peppermint tea, with no other flavors in combo.
They take great care to select the most aromatic, robust peppermint, and use flavor-neutral packaging to bring the whole of that signature Celestial Seasonings flavor all the way home to the consumer.  In fact, if you were going to teach a child what true peppermint tastes like, you'd do your job well to give her a mug of this heartwarming beverage.  Then, she'd know.  Not even tea brewed from loose peppermint in a tea ball tastes better.
When brewed according to the recipe below, you get a light amber to orange, aromatic liquid, along with an easily recognized, but by no means grating peppermint smell, that never tastes bitter; even if you steep the teabag way longer than recommended.  Celestial peppermint tea truly captures the natural essence of breath freshening mint, which never becomes overworked.
It's a brisk, refreshing, and pleasant-tasting minty product, packaged with relentless attention to creating the cool peppermint flavor.  This product provides great reasons for why to drink peppermint tea.  Like all herbal teas, it's naturally caffeine free, and can be enjoyed either hot or cold. It's a great drink to share with someone with whom you'd enjoy just slowing down with, and taking it all in, the peppermint tea and everything else.
Benefits, Pros, Features, and Advantages
Pure peppermint tea.  Peppermint leaves is the only ingredient.
Does not raise blood sugar.  Great for diabetics as this product contains zero net carbs, like most other herbal teas, and may suppress appetite and satisfy sweet-tooth cravings at times.  Helps to satisfy that craving for delicious tastes while engaging in a weight loss diet campaign.
Freshness of loose tea, but the convenience of teabags.  Though bulk loose peppermint is cheaper than this product, the increased convenience of this package more than justifies the added expense.  Besides, you get to see the artwork; a feature of every box of Celestial all natural tea.
Widely available.  Easily procured at most larger grocery stores and tea shops. However, have not seen this in small grocery shops.
Like other great peppermint teas.  The taste of this tea closely resembles other pure peppermint teas from Bigelow, Twinings, and Carrington Tea.




Economical.  At approximately $2.59 for 20 tea bags at Walmart, the cost per serving is on par per serving, along with other similar products from Bigelow, Celestial Seasonings, et al.
Less teeth staining, attributable to the lighter color of this peppermint tea.
Convenient box.  The box has re-closable lid on the top, and made of a sturdy paperboard.
Double strength brewing of desired.  The teabags come in sets of two, or pairs.  Separated easily they are if you prefer a modest peppermint flavor per mug.  But if you like a stronger minty sensation, just steep a pair of the teabags, leaving them attached.
Gluten free and Caffeine free.  It's gluten free as well as naturally caffeine free, and contains all natural ingredients. Not decaffeinated, as peppermint has no caffeine to begin with.




Microwaves do not diminish the flavor.  Brewing in the microwave oven is fine, and even offered as an alternative means of preparation by Carrington Tea Company, this tea's manufacturer.
Refreshing without sweetener.  Grown in the Pacific northwest, the sole ingredient in this herbal tea (peppermint), features a strong but natural minty aroma, and a strong but cool essence mint flavor.  But if sweeteners are your thing, feel free to add them for that liquid candy cane effect.
Non addictive, yet alluring.  Whatever draw this product has, comes exclusively from its superior natural flavors, and not from addictions to sugar or caffeine.
Recycled packaging.  The box is made from 100% recycled materials.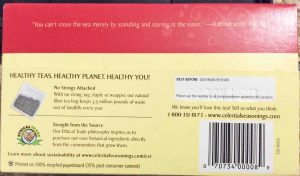 Disadvantages, Cons, Problems, Concerns, and Suggested Improvements
Tea bags not sealed separately.  The teabags are NOT individually wrapped.  In lieu of this, Celestial Seasonings provides a large pouch, into which they stack the teabags, which are attached to one another in pairs.  This works pretty well at preserving peppermint freshness.
Flavor can be destroyed by non neutral sweeteners.  As with all peppermint teas, be careful to avoid non flavor neutral sweeteners in them, like honey, molasses, or maple syrup, as very small amounts of these can radically alter the signature peppermint flavor. Avoid them, that is, unless you LIKE how they change the flavor.  If you truly seek the peppermint essence in your tea however, we highly recommend not using them.
No caffeine.  If you're looking for a caffeine fix, do not look here. For that, look for a black or green tea, laced with peppermint.
No strings or tags on tea bags.  These teabags have no strings or tags (tagless).  So you either must remove them from your cup with a strainer spoon when finished brewing, or pick them out with your fingers, in a decidedly UN glorified fashion.  Just don't burn yourself!  We'd prefer that bio-degradable strings be added, instead of no strings at all, for added safety and convenience.
Brewing Instructions
Fresh, cold, filtered water is best to start with here, although cold water, drawn directly from the tap, still produces an acceptable flavor.
In either case, bring the water to a full, rolling boil.
Remove one tea bag from the box, and place in your favorite cup or mug.  If you like stronger tea, use the whole pair of attached teabags.  If not, tear them in half and use just one of the halves.
Pour the boiling water into the cup, over the tea bag, and fill to desired level.
Allow teabag to steep for three to five minutes.
Remove the teabag from the cup.
Avoid ringing it out however into the cup, as this can introduce an undesirable, bitter flavor.
For iced peppermint tea, follow the above directions.  But allow to steep a minute or two longer, and then pour the tea over ice, in a tall glass.  If you want to make a quart of iced peppermint tea, use four to six teabags with 32 ounces of boiling water.  Steep the bags in this water as above.  Allow to cool, and then poor the tea over ice.  Refrigerate any unused portions, in an airtight pitcher, as you probably do not want the peppermint aroma to infiltrate your ice box, nor what other smells are in your ice box, to infiltrate your peppermint tea. Keep things separate.
Nutrition Facts
Serving size: 1 tea bag (makes 8 Fl. ounces).
Servings per container: 20.
Calories: 0.
Total fat: 0 grams, 0% DV.
Sodium: 0 grams, 0% DV.
Total Carb.: 0 grams, 0% DV.
Sugars: 0 grams.
Protein: 0 grams.
Percentage values are based on a 2,000 calorie per day diet.
Ingredients
Peppermint.  Just peppermint.   That's all.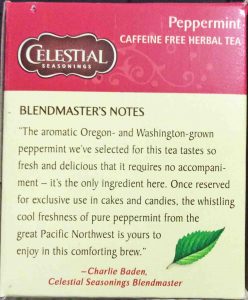 Our Tea Rating
We highly recommend this highly beneficial tea for anyone who likes peppermint sticks or wafers, and would therefore rate this tea at 98 out of 100.  You can drink as much as you like, without fears of developing the caffeine jitters or nausea.
Where To Buy Celestial Seasonings Peppermint Tea
Look for this hot tea product with the curiously cool, minty taste in the bright pink box with white and pink lettering and the re closable, cereal box style lid on the top, at medium to larger grocery stores and web sites.  The local Walmart sells numerous Carrington tea products including this one, and you'll also find it on Amazon and eBay.  See below for a link to a large list of Carrington Tea resellers.
References
Revision History
2015-09-26: Added tags.
2015-01-25: Originally published.