Bigelow English Breakfast Tea has perched on our breakfast table for a few years now. As loyal black tea fans for more than twenty years, we've consumed several boxes of this hearty dark tea in that time.
They served English breakfast tea now and again at college cafeterias, and some friends and fans of Bigelow, drank it daily and offered it during our visits. This is an intense, robust, very flavorful, and very dark black tea, and is perfect for those seeking an almost concentrated full-bodied tea that packs a powerful caffeine punch.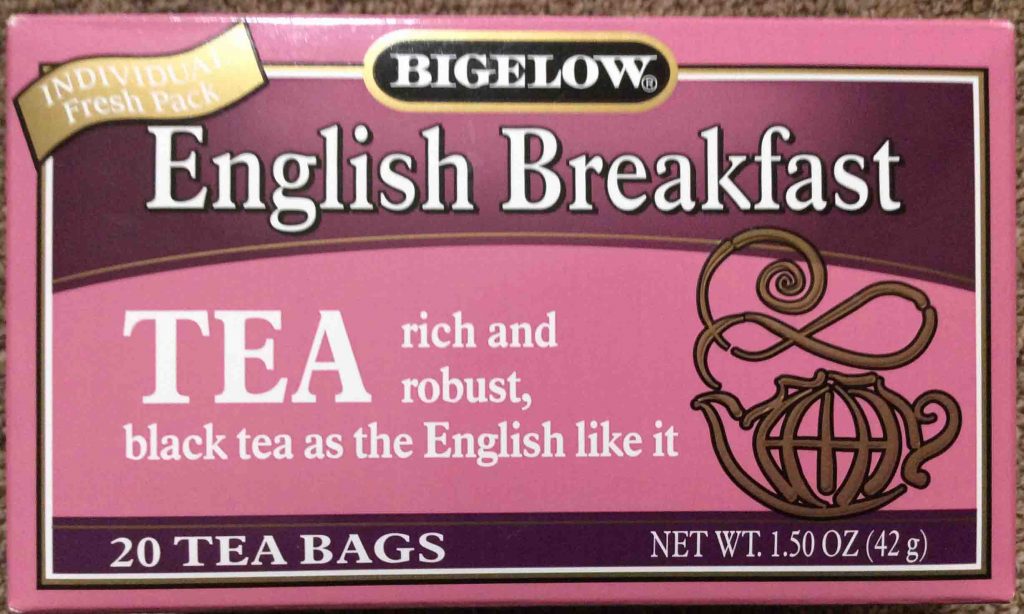 Its clear, dark orange-red color (that looks black unless you shine a bright light directly on it), with surprisingly low bitterness given its strength, makes for a refreshing wake-me-up beverage. Bigelow, as with most black teas, sweetens a lot with just a little stevia or Truvia. Its cost is on the high side of average as compared with other black tea products we've sampled. Bigelow Tea Company has lots of experience in producing their line of classic black teas, and we're eager to review the rest of them as time permits.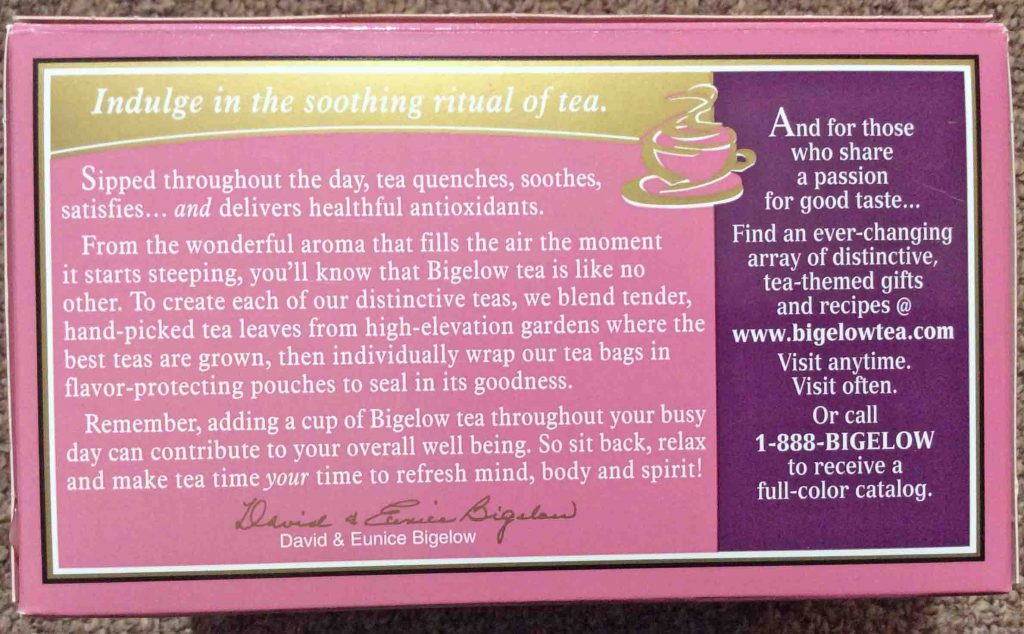 Benefits, Pros, Advantages, and Features
Attractive and easily identified packaging. The artwork and packaging is brightly mauve colored, is uniquely Bigelow, and thus, easy to spot..
Well-sealed tea bags. No black tea aroma until you tear open a single-serving teabag. So, it stays fresh virtually forever.
Long shelf life. Bigelow English Breakfast Tea keeps for years without noticeable decline in flavor, as the box comes wrapped in virtually airtight cellophane. The best-if-used-by date is roughly three years out from the date I purchased my box. But it will remain fresh for longer without losing much great flavor. The tea bags are individually wrapped in an aroma-tight foil and arranged in a single row within the box. Even when you remove the outer cellophane, no tea smell greets you until you actually tear open one of the teabag envelopes. They took excellent care to seal this breakfast tea quite well.
Requires little sweetener. This blended black tea sweetens up very well when you add stevia. Stevia sweetens without destroying the signature orange pekoe tea flavor.
Black tea flavor hard to mute. Sweeten this tea as much as desired, with virtually any sweetener you want, and it will still taste like a robust, black tea rendition.
Top level caffeine source. This high quality yet medium-cost tea has considerable caffeine. So it will indeed jolt you awake in the morning, or rescue you from that 4:00 PM late-afternoon work drowsiness. Bigelow black tea is a great natural drink for third-shift workers who find it difficult to stay awake once the sun goes down. And of course, it's a good complimentary beverage to a substantial breakfast like those often prepared in England. Thus its name: English Breakfast Tea.
Notably economical. This is an excellent tasting beverage for hot and cold tea recipes. Each serving (teabag) costs less than twenty cents.
No metal staples. They avoided steel staples to fasten the string and tags to each tea bag. Instead, a knotted construction is employed, in which the teabag itself appears to have been assembled around the knotted end of the string, opposite the tag. Nonetheless, without staples, the string holds tightly to the bag.
No artificial colors or flavors, and is gluten-free.
Exceptionally Dark and robust appearance and taste. This breakfast tea, when brewed according to the accompanying instructions, comes out very dark. So if you're a tea drinker who really enjoys a strong creamy taste in your tea, and like to add lots of whole cream or half and half, this English Breakfast Tea will retain its color much better for a given amount of added flavoring.
A wondrous thirst-quenching black tea beverage at any time at all. Though this is called English Breakfast Tea, you need not drink it JUST at breakfast. It's a fine drink any time throughout the day, so long as you can handle the caffeine.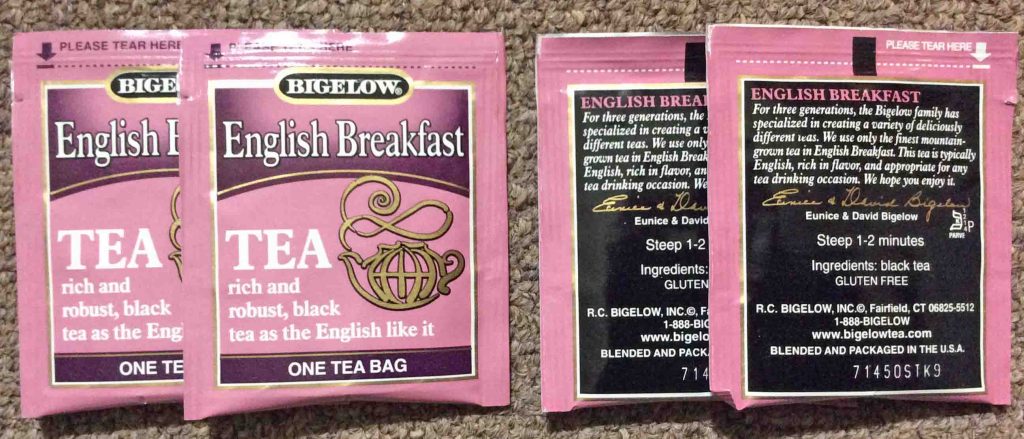 Disadvantages, Problems, Cons, and Concerns
May contain too much caffeine for some folks. So we must limit the number of cups of this "go go juice" that we consume each day, in order to steer clear of the caffeine jitters. We avoid drinking this on an empty stomach, as we sometimes feel queasy when we do.
Addictive for some. Particularly when we've not taken any tea in recent days, we often become "wired" when again consuming it, and can feel sick when climbing stairs or doing any sort of rigorous exercise after drinking it. It can create nausea when we've gone without it for several weeks.
Can leave troublesome tea stains. Being darker in color than most green teas, especially when you steep it for many minutes, this beverage can stain clothes if you accidentally spill it on yourself. If this happens, rinse it out with clear water right away if the affected clothing can be washed.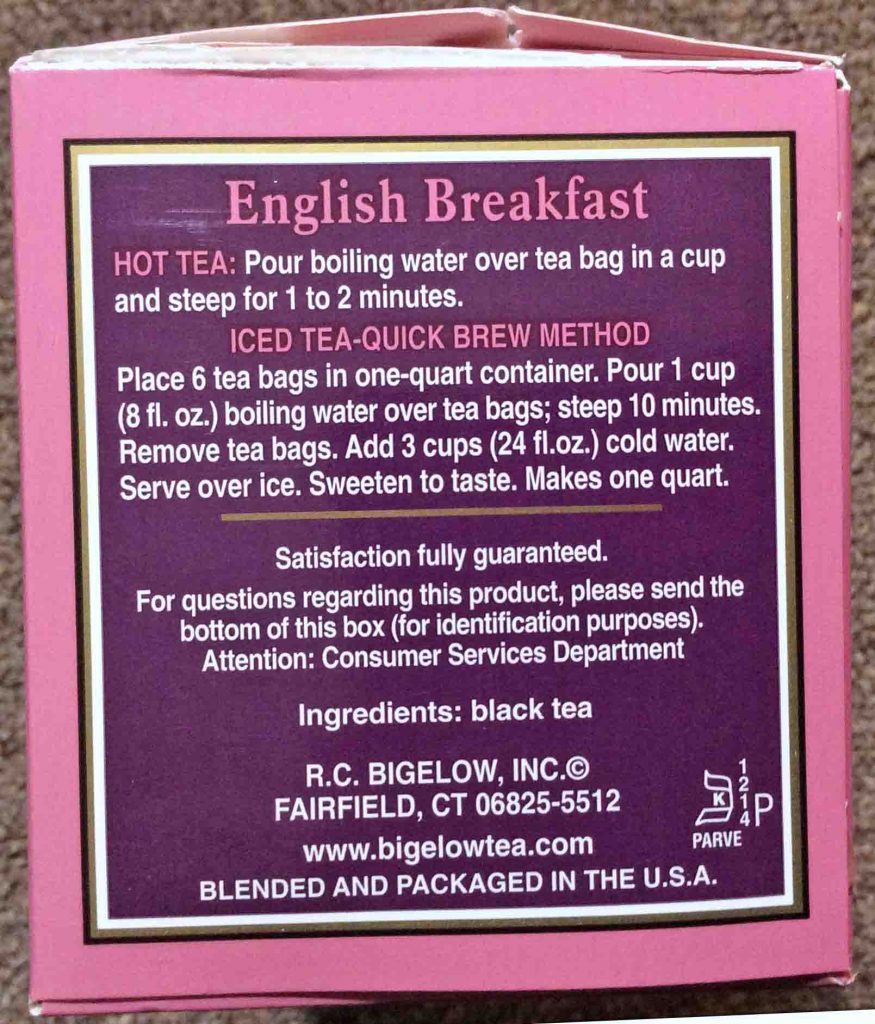 Our Brewing Instructions
Each tea bag makes one 8-ounce mug of English breakfast tea.
By The Cup
Boil enough fresh water for the number of cups of this tea you wish to brew.
While waiting for the water to boil, unwrap 1 teabag for each cup desired.
Put the teabags into each cup.
When water boils, immediately pour it into the cups.
Steep for two to five minutes or until it becomes strong enough for your taste.
Discard the tea bag(s).
Sweeten tea as desired.
Enjoy.
[display_gogle_ad]
By The Pot
Use hot water to rinse out tea-pot prior to brewing, to warm it.
Again, determine how many cups of black tea you wish to make.
Put the desired amount of fresh, filtered water in your kettle or pot.
Put the kettle on your stove and activate the heat.
While waiting for the water to boil, removing the wrappings from the desired number of tea bags.
Remove labels from the teabags, to avoid possible contamination of the tea with ink from the tags.
When the water achieves a rolling boil, immediately add the teabags into the pot of boiling water.
Remove pot from heat and turn off the stove.
Allow teabags to steep in the pot for two to five minutes.
Remove the teabags from the pot with a straining spoon and discard.
Pour the tea into cups, sweeten to taste, add milk, lemon, lime, or orange as desired, and enjoy.
For Iced Tea
Unwrap 4 teabags.
Remove the tags from them.
Put these teabags into a tea-pot.
Then, in a separate container, boil four cups (1 quart) of fresh, filtered water.
Once the water boils, remove from heat and turn off the heat source.
Pour this water into the teapot, over top of the tea bags.
Steep for five minutes.
Remove and discard the teabags with a straining spoon.
Add sugar, lemon, orange, and/or lime as desired to the brewed tea.
Fill desired number of glasses with ice.
Pour steeped tea into these glasses.
Enjoy.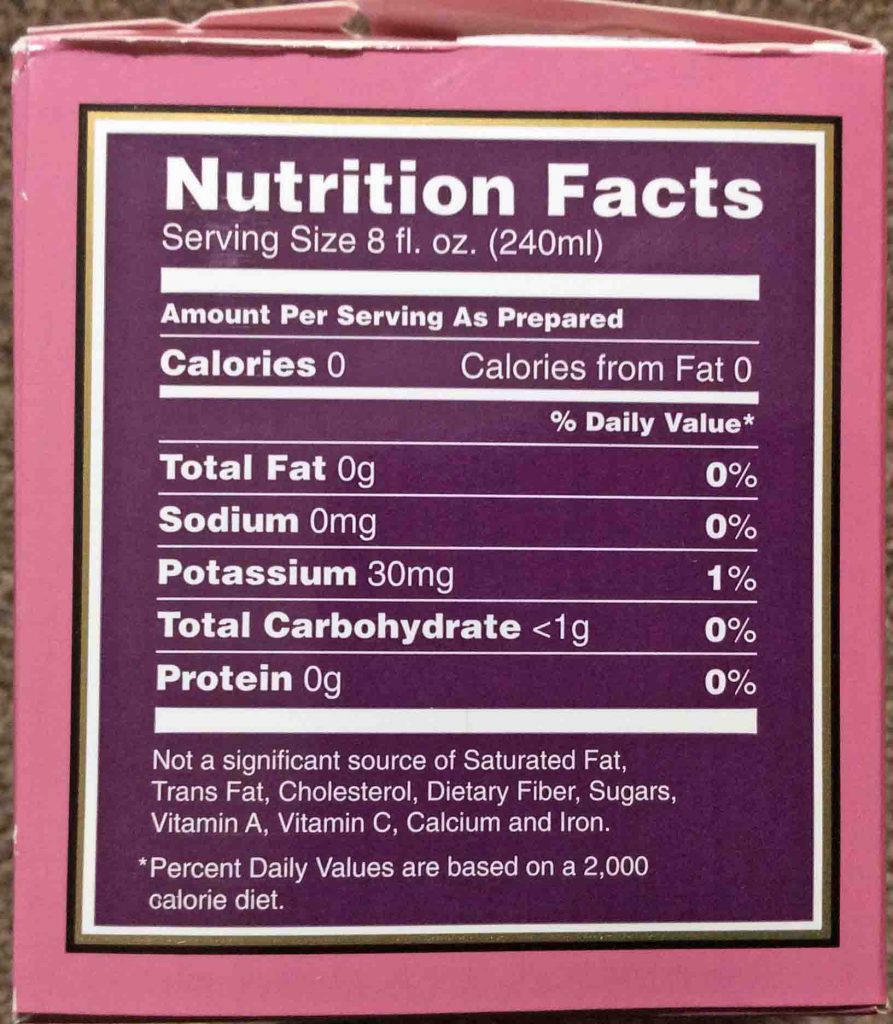 Nutrition Facts
Serving size: 8 Fl. ounces or 240 milliliters.
Calories: 0.
Calories from fat: 0.
Total fat: 0 grams, 0% DV.
Sodium: 0 milligrams, 0% DV.
Potassium: 30 milligrams, 1% DV.
Total carbohydrate: Less than 1 gram, 0% DV.
Protein: 0 grams, 0% DV.
Ingredients
Black tea.
Our Rating
English Breakfast Tea from Bigelow, is simple to prepare, a cinch to flavor, and quite good tasting and smelling. If we needed not restrict our caffeine intake, we would drink this more frequently. So our rating is 93 out of 100. It's likely to remain on the market for years to come, so fear not about coming to rely on this Bigelow tea product as a traditional beverage at breakfast time, and an iced cold drink at lunch, picnics, and supper.
Where To Buy Bigelow English Breakfast Tea
Look for this product in the pink / mauve box with the Bigelow logo, at larger grocery stores and tea shops, as well as online at Amazon and eBay. Check the references for a robust list of suppliers and resellers.
References
Revision History
2015-01-26: Fixed some typos.
2015-01-14: Originally published.